Yushin America has created the first online training program with testing and documented certificate of successful completion. These courses permit you to learn, develop and refresh skills that meet or exceed industry requirements, at your own pace, at your convenience.
There is no charge for approved companies and institutes of higher learning.
Currently, courses are based on Yushin's RC/RCII & YC/YCII series include:
Robot Operation
Lead Through Teach
Mode Selects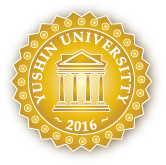 Additional courses are in development and will be available soon.
To receive your sign-in credentials, please complete the form to the right of this certificate.
For answers to your specific questions, please contact your local Yushin sales representative or Regional Manager. Additionally, you may e-mail us at info@YushinUniversity.com